AUDREY 2 loves to be on the road and hopes to stop in and see you soon! Check out the scrapbook of her travels and see what people everywhere have to say about her stay in their town...
THEATREWORKS FLORIDA - ORLANDO FRINGE FESTIVAL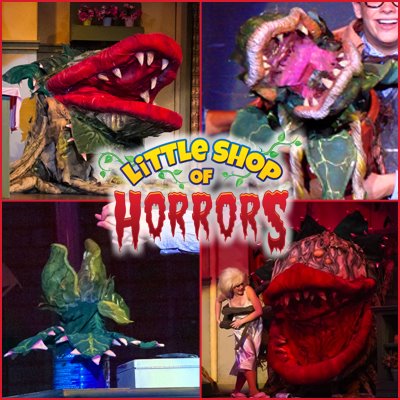 Opening at Garden Theatre in Winter Garden, FL in 2011 to sell out houses, TWF's award-winning production of Little Shop of Horrors went on to swept the Orlando International Fringe Theatre Festival 2012 with TEN awards including BEST IN FEST!
Scott A. Cook
Artistic Producer, TheatreWorks Florida
Davenport, Florida
LAKE MARY PREPARATORY SCHOOL - SANFORD, FL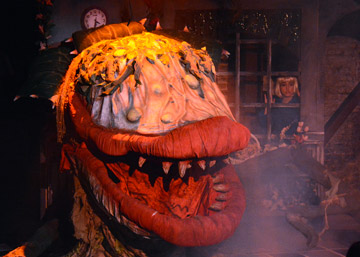 Working with Scott and ImaginationWorks was such a great experience for Lake Mary Prep. Scott came in with the puppets and created an amazing learning atmosphere for my students. All of the puppets were in top shape, the dentist chair was perfect and the mask made the "gas" scene extra hilarious. Thank you so much to Scott and ImaginationWorks for making this such a fulfilling experience for my students. I recommend ImaginationWorks to ANYONE who is in the works to produce Little Shop of Horrors.
Christopher McCabe
Drama Director, Lake Mary Preparatory School
Sanford, Florida
TAVARES HIGH SCHOOL - TAVARES, FL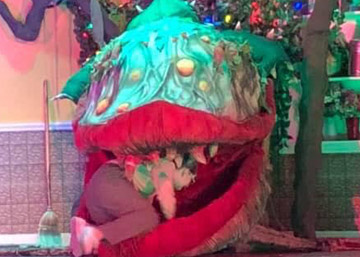 Having done Little Shop of Horrors three times in the last 14 years, I must say that renting the plants from ImaginationWorks was by far the best experience Iíve ever had when compared to the first two times I did the show. When renting the plants from ImaginationWorks, not only are you getting professional grade puppets to work with, but youíre also getting the necessary hands on training your techs need to bring the plants to life. It was an excellent masterclass in puppetry that all theatre students (whether youíre a part of the training or just watching) will walk away having learned much about puppetry performance. It is without reservation I recommend ImaginationWorks for your puppetry needs. They truly make one of the most difficult elements of the show much easier and less stressful.
Chip Batko
Director of Vocal Music & Theatre, Tavares HS
Tavares, Florida
CONERSTONE CHARTER ACADEMY - BELLE ISLE, FL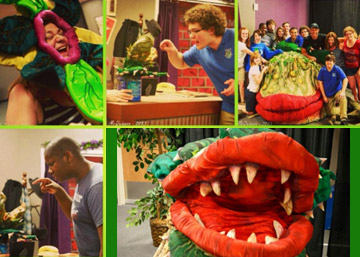 Working with ImaginationWorks was a joy from start to finish. Not only were the puppets more than what we even thought possible, the professionalism in which all business was handled was superb. All pertinent information was clearly relayed as well as detailed directions as to how to operate each puppet including dimensions.
Once the puppets were in our school, Scott A. Cook held a highly informative, detailed and hands on master class on how to operate and care for the puppets. This was invaluable and he spent more time than was originally allotted. He made certain that all involved were fully aware of pertinent information and handling. It was not only full of information, but Scott made the process so much fun as well. The cast had a blast! The audiences were overwhelmed with their believability and "stage presence." We performed to full houses and standing ovations.
I would highly recommend working with ImaginationWorks when producing your own version of Little Shop of Horrors!
Yvette McGregor
Drama Director, Cornerstone Charter Academy
Belle Isle, Florida
STARSTRUCK THEATRE - STUART, FL - www.StarStruckFL.com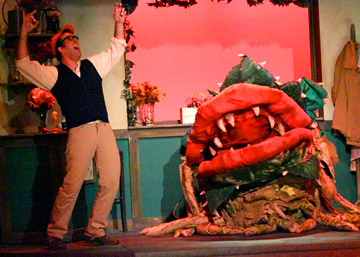 We had a FANTASTIC experience using ImaginationWorks for our professional series production of Little Shop of Horrors. Scott was a true pro and guided us every step of the way with the process of bringing "Audrey 2" alive! The quality of the plants and props were top-notch and the whole process couldn't have been easier. Definitely recommended!
Josh Noble
Marketing & Operations, StarStruck Theatre
Stuart, Florida
CLEARWATER ACADEMY INT'L. - CLEARWATER, FL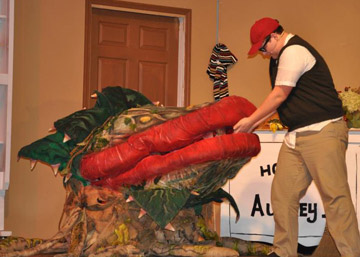 The Audrey 2 puppets from ImaginationWorks were incredible! They really made our show into a spectacular presentation! With the excellent hands-on training from ImaginationWorks, our puppeteers were able to animate Audrey 2 and really bring her to life! Thank you so much!
John Buell
Drama Producer, Clearwater Academy International
Clearwater, Florida
THEATRE WINTER HAVEN - WINTER HAVEN, FL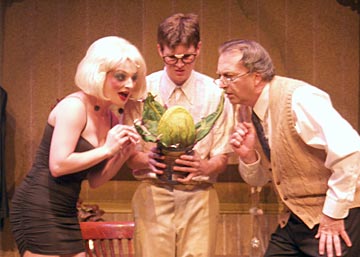 ImaginationWorks was the supplier of the Audrey 2 puppets used in our production of Little Shop of Horrors.To say they were what was expected would be an understatement--they were exceptional! Mr. Scott A. Cook not only delivered as promised, he also reworked, revised and added suggestions that made the entire operation an easier task. I can easily recommend his puppets for any or all of the future productions of that show.
Norman Small
Producing Director, Theatre Winter Haven
Winter Haven, Florida
SHOW PALACE DINNER THEATRE - HUDSON, FL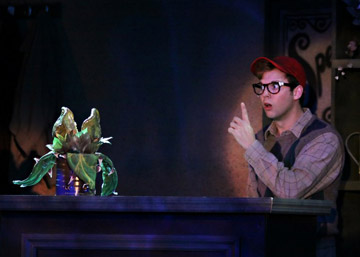 ImaginationWorks' puppets added so much life to our show! We always said that Audrey 2 was the real "star" of the show and with these puppets, that couldn't have been more true! They were incredible. On opening night, our producer walked up to me and said "Thank you for fighting to get those puppets. They are incredible!". I couldn't have been more thrilled with how our production turned out and a large part of that was due to the fabulous puppets from ImaginationWorks. Scott A. Cook was absolutely wonderful from start to finish and really helped us to learn how to work and take care of these puppets. He was very accommodating and really informative. To be honest, the puppets are so much better in real life than what they look like on the website. There is NO way you won't be happy when you rent this package!

Susan Haldeman
Managing Director, Show Palace Dinner Theatre
Hudson, Florida
MORE PHOTOS FROM SHOW PALACE DINNER THEATRE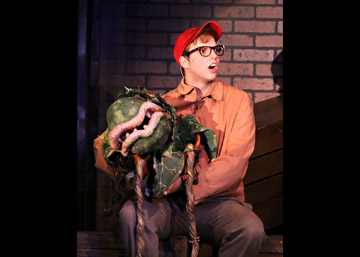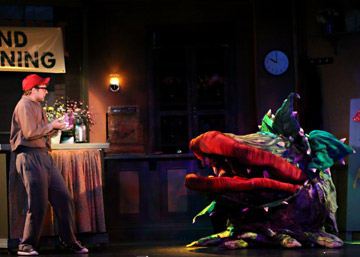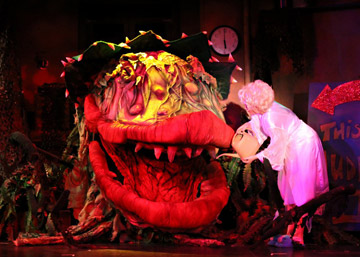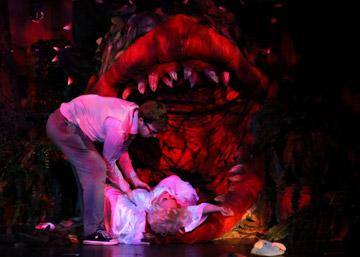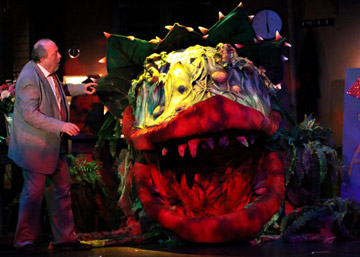 PLANT HIGH SCHOOL - TAMPA, FLORIDA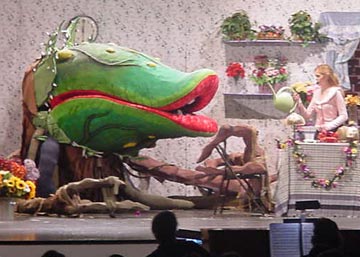 The Audrey 2 puppets provided by ImaginationWorks helped to make our production of Little Shop of Horrors a huge success! They looked awesome and were quite easy to use. Audrey 2 seemed to come alive as a real character!
David Rutter, Director
H.B. Plant High School
Tampa, Florida
CANTERBURY SCHOOL - FORT MEYERS, FLORIDA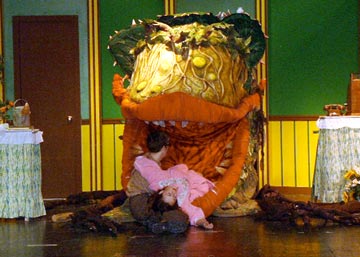 Thank you so much for your invaluable assistance with the rental of your beautiful Audrey 2 puppets for our production of Little Shop of Horrors. The show was a huge hit and much of the credit for its success should go to your scene-stealing puppets. Their animation was made simple with your precise instructions, and your tips for staging Audrey 2 made her more lively. Service from ImaginationWorks was exceptional. Delivery and pickups were prompt, your instructions complete and (best of all) all emails and phone calls were promptly returned. I highly recommend your company to any group attempting to stage Little Shop of Horrors. We couldn't have done it without you!

Thank you again,
Karen Goldberg
Canterbury School
HENEGAR CENTER FOR THE ARTS - MELBOURNE, FLORIDA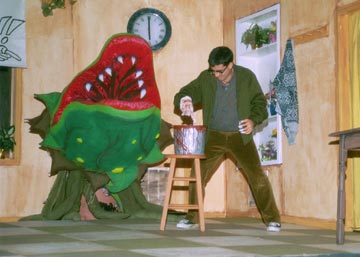 It was a pleasure to do business with ImaginationWorks. Not only are the plants phenomenal, the staff is extremely knowledgeable and provides outstanding customer service. I would highly recommend renting Audrey 2 from ImaginationWorks. They made producing Little Shop of Horrors easy. The design and fabrication of the plants is incredible. The actors, technicians and the audience loved all four Audrey 2's. If you are producing Little Shop of Horrors, contact ImaginationWorks - you'll be amazed.

Jerry Brees
Executive Director
Henegar Center For The Arts

KEY WEST PLAYERS - KEY WEST, FLORIDA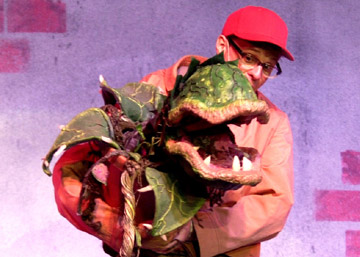 It is my pleasure to highly recommend the use of ImaginationWorks' services for the rental of their Audrey 2 puppets for any production of Little Shop of Horrors. When I first received the rights to the show from MTI, they suggested that I contact Scott A.Cook and ImaginationWorks since I live in a rather isolated area - Key West, FL - and it would've been prohibitively expensive to have the plants shipped through MTI. The rental process through ImaginationWorks was stress-free with all terms explicitly laid out. The delivery and pick-up were all efficiently handled by ImaginationWorks - not an easy prospect because our theatre is in a busy, tightly congested tourist area. ImaginationWorks provided helpful instructions and manipulation tips. The plants are integral to the show, and ImaginationWorks' are colorful, fairly lightweight and manageable and are excellent members to anyone's cast.
Danny Weathers
Artistic Director
Key West Players, Inc.

OAK HALL SCHOOL - GAINESVILLE, FLORIDA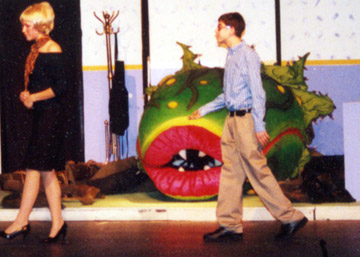 We feel so fortunate to have found ImaginationWorks and the marvelous Audrey 2 puppets! The training from ImaginationWorks and the experiences had by our high school students working with Audrey 2 were invaluable. Pods #3 and #4 were amazingly life-like and a visual treat for the audience! Our younger students are still talking about the show. One student was so impressed he chose to create a ceramic Audrey 2 as his art project. ImaginationWorks was both personable and professional in its handling of the plant rental. We highly recommend this company!
Jennifer Breuer
Director of External Communications
Oak Hall School
FL STATE THESPIAN FESTIVAL 2003 - TAMPA, FLORIDA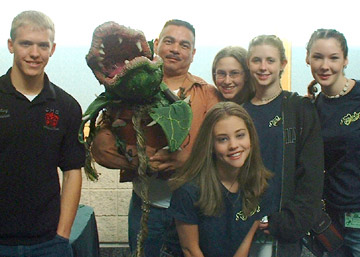 From Audrey II: "I LOVE THESE KIDS!!"
YOUTH OF THE BEACHES ARTS GUILD - JACKSONVILLE, FL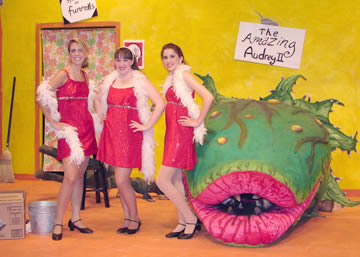 ImaginationWorks was exceptionally easy to work with and the products were amazing! Audrey 2 (all four of them) became cast members of the show just like everyone else. I STRONGLY encourage your customers to take advantage of the tutoring session on how to work the plants. We found this to be the most beneficial element to our puppeteers. All the way around, this was an incredible experience for us and it was all due to ImaginationWorks! Thanks so much for everything!
Jennifer E. Hendry
Youth of the Beaches Arts Guild
Jacksonville Beach, FL
LAKE GIBSON HIGH SCHOOL - LAKELAND, FL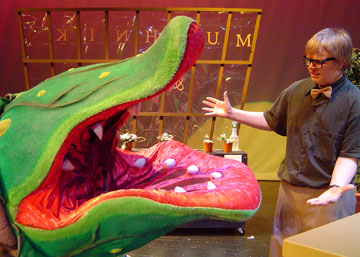 Anyone planning to produce Little Shop of Horrors as part of their season would be well advised to enlist the help of ImaginationWorks. The plants were everything they promised, and so much more. It's clear that their staff has a fierce passion for staging top drawer theatre experiences, and they'll go the extra mile to ensure your production leaves audiences dazzled. After every performance, we could hear folks leaving the theatre saying, "How did they DO it ???" Outstanding service and unparalleled quality !!! Thanks, ImaginationWorks!!!!

Greg Burdick
Director of Theatre Arts
Lake Gibson High School, Lakeland, FL
CAPE CORAL HIGH SCHOOL - CAPE CORAL, FL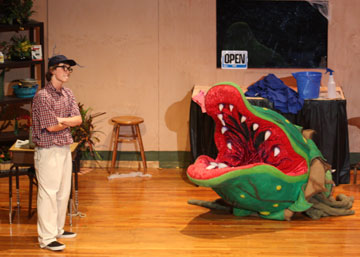 ImaginationWorks is a goldmine of a find! Renting the Audrey 2 from them has been a dream come true! It was everything we hoped and could ever wish for. From the moment we picked up Audrey 2, to the moment that we dropped her off, ImaginationWorks was in contact with us making sure all was working out. The run down that we received when we picked Audrey 2 up was so explicit that how could anything go wrong? They made using the star of our show very easy. I recommend them highly, and I would most definitely use them again and again! Audrey 2 couldn't have better parents! Thank you so much guys! Cape Coral High School Drama Club thanks you from the bottom of their hearts!

Thanks a bunch,
Liza Castro Robinson
Cape Coral High School, Cape Coral, FL
LAGRANGE COLLEGE - LAGRANGE, GA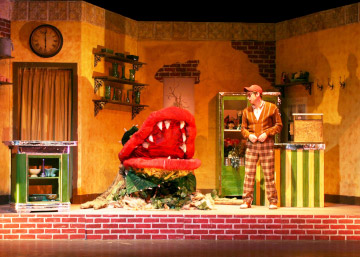 Our experience working with ImaginationWorks was excellent. We were extremely impressed by the craftsmanship and versatility of all 4 plants. Scott A. Cook does amazing work.We highly recommend his Audrey 2s! Top notch professional company!
Kim Barber Knoll
Chair, Department of Theatre Arts
LaGrange College
SEACREST COUNTRY DAY SCHOOL - NAPLES, FL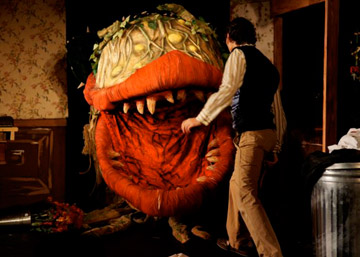 The Audrey 2 puppets worked out beautifully for our production of Little Shop of Horrors. Even though we could only rent the puppets for one week, within a few days our puppeteer was able to present a unforgettable performance. At times cute, sly, mischievous, evil and deadly, the audience believed this rapidly growing presence was a real character and a live member of the cast. Many thanks for your great design.

Phil Rosenberg
Seacrest Country Day School
Naples, FL